Skip to Content
Cabinetry Specialists Serving Naples, Bonita Springs, and Marco Island, FL
Are you looking to renovate your kitchen or bathroom? Consider replacing your cabinetry. Modern cabinets add more than convenience and storage space; they showcase a signature style and look that showcases your home's appearance. Quality cabinetry is a defining aspect of any home renovation, and Production Flooring & Cabinets is proud to offer the finest cabinetry options in Naples, Marco Island, and Bonita Springs, FL. We source all of our cabinetry from top manufacturers, and we can customize it to fit your home perfectly.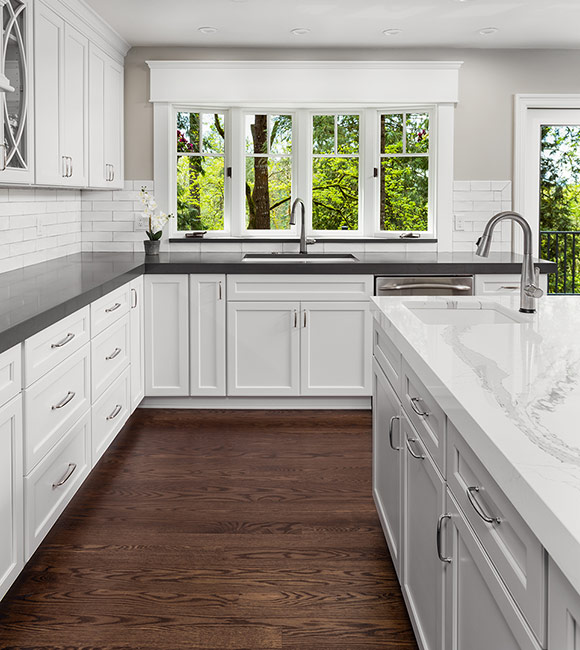 Wood and Custom Cabinets
Today's cabinetry options are almost endless, so when it comes to finding the right cabinetry to meet your needs, you may feel a little overwhelmed. Production Flooring & Cabinets offers cabinetry consultations with our home design experts, who can help you select the amenities, finishes, and styles you want.
We also offer a wide range of cabinetry options that can match your tastes and your budget. From light and simple Shaker-style kitchen cabinets to elegant glass-front cabinetry, we can give your kitchen, bathroom, or other living space a look you'll love. All of our cabinetry selections can be customized to meet your needs, and we're happy to special order any style cabinet system you'd like.
We've built a reputation in Naples, Bonita Springs, and Marco Island, FL, for expert cabinetry installations and unmatched customer service. We'll strive to meet your needs and exceed your expectations. Visit our showroom or call us today to schedule an estimate.
Custom-Fit Cabinetry
When it comes to upgrading your kitchen or bathroom, new cabinetry is almost always on the top of the to-do list. Many homeowners know that cabinets are one of the top aspects of a home that can tie together both the flooring and wall décor aesthetics.
Whether you're looking to do a one-room makeover or a complete home redesign, we offer custom-fit cabinetry that will look amazing in any room in your house. Our cabinet systems contain the latest amenities, from soft-close doors and hinges to dual-rack shelving and deep storage surfaces. We source all of our cabinetry from top manufacturers and have a rock-solid warranty you can rely on.
Signature Installation Services
Quality cabinetry, affordable style, and expert installations are the hallmarks of our business, and we've built a reputation in Naples, Bonita Springs, and Naples, FL, for offering unmatched renovations services for reasonable prices. Our team of expert installers has over 100 years of combined experience, and we're fully licensed and insured.
When you call on Production Flooring & Cabinets, we'll come to your home, give you an accurate estimate of the time and cost required, and install your cabinetry and flooring perfectly. When you want cabinetry that's both functional and breathtaking to behold, there's no better installation service than Production Flooring & Cabinets.
Custom Built Cabinets
We offer full-service custom building of just about any type of cabinetry. We work closely with clients to design and build expertly crafted custom cabinetry. Built specifically for you, your space and your ideas and needs in mind, our fully licensed and insured craftsman will be there from start to finish, ensuring that the work is completed flawlessly.
Quick Ship Wood Cabinets
Quick ship wood cabinets provide great value with quick turnaround. They are readymade, pre-manufactured cabinets and are immediately ready to install upon. Our stocked cabinets offer high-quality construction with beautiful style. Quick ship wood cabinets are available in all sizes, ranging from small to full height cabinets and include many of the same quality features that are standard on custom made kitchen cabinets.
Schedule Your Free Consultation Today!