Skip to Content
Wood Flooring Specialists in Naples, Marco Island, and Bonita Springs, FL
From traditional oak and maple floors to the unique character of exotic wood species, hardwood flooring options have exploded in recent years. We offer a wide range of hardwood flooring selections that can match your needs and your lifestyle. Our wood floors come in a variety of both solid and engineered options as well as in various widths, thicknesses, and finishes.
Most homeowners agree that nothing beats the look and feel of hardwood floors, and with our affordable selections, you can have the style and elegance you want for a reasonable price in Naples, Marco Island, and Bonita Springs, FL. Our team of expert installers at Production Flooring & Cabinets has over 40 years of experience, and we're fully licensed and insured for your peace of mind. Contact us today for more information.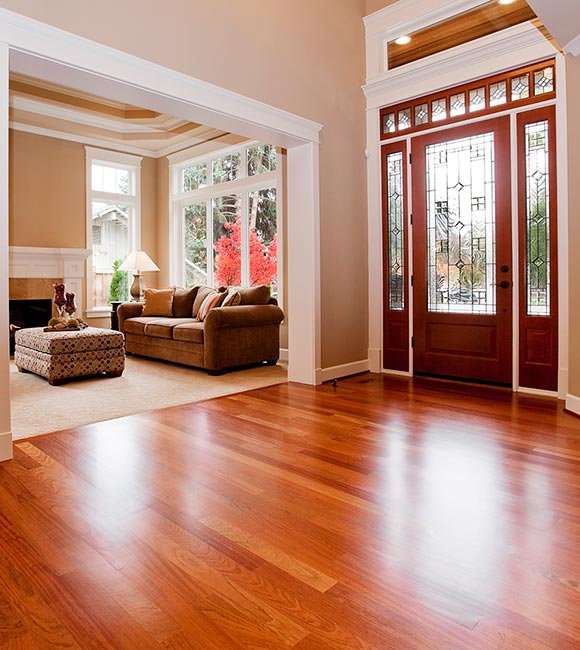 The Advantages of Wood Flooring
Whether you're looking to renovate your kitchen, bathroom, or any other living space in your home, solid wood flooring is a reliable and attractive choice. Our solid wood flooring is specially milled to ensure a uniform and stable fit.
Hardwood flooring also offers the advantages of:
Easy maintenance and cleaning
A timeless look and feel
Strength and durability
A variety of colors and shades
Better acoustics
Less buildup of air pollutants and particles
Our solid wood flooring is crafted from the finest-quality timber and is guaranteed to last for decades. We stand behind all of our work, and we'll ensure you're more than satisfied with the final results.
Choosing the Right Wood Floors for You
There are a lot of factors to determine when choosing wood floors for your home. Should you go with a more traditional solid wood or engineered wood that offers better moisture protection? Where will your wood floors be installed? Some rooms like your kitchen would require woods with more moisture protection than others. What's your subfloor made of? A concrete subfloor works better with engineered wood than solid wood. What style and function do you expect from your floors? Some wood materials are more durable than others.
At Production Flooring & Cabinets, we can help you answer these questions and choose flooring that's durable, functional, and looks amazing. Our flooring experts have an eye for detail and can provide you with affordable options that you'll love. Contact us today to begin the flooring renovation process.
Reliable Renovations, Affordable Prices
Choosing the right contractor for your cabinetry and flooring remodel is key, and when you call Production Flooring & Cabinets, we'll ensure you're confident in our abilities. We have over 40 years of experience in the industry, and we're fully licensed and insured. We specialize in wood, laminate, stone, tile, and vinyl flooring installations as well as cabinetry renovations.
We've served countless clients in Naples, FL, and throughout Collier County, FL, and we're happy to come to your home, give you an accurate estimate, and offer exceptional flooring and cabinetry options for cost-effective rates. We pride ourselves on prompt and reliable work, expert craftsmanship, and unmatched customer service.
Schedule Your Free Consultation Today!