Skip to Content
The Choice Flooring Renovation Service in Naples, FL
Flooring that feels right, looks amazing, and can withstand the daily wear and tear of your family's foot traffic is the ideal every homeowner craves. But, finding affordable options for quality flooring can be a challenge. AtProduction Flooring & Cabinets, we specialize in providing luxury flooring at discount prices in Naples, Marco Island, and Bonita Springs, FL. We're proud to offer a combination of signature flooring options that can cater to your unique tastes. We have over 40 years of experience in the industry, and we can provide any range of materials to match your flooring vision.
It's no secret that flooring is one of the most noticeable aspects of your home, and it has a huge impact on its property value. Whether you're in the market for solid wood floors, tile, or carpeting, we offer quality options that will look amazing and last for years. Our inventory of stylish flooring includes warm and durable hardwood floors, signature tiles, and high fiber count carpeting. We can customize your flooring to your exact specifications, and our installation team will ensure the work is done correctly.
We're fully licensed and insured, and we're happy to oblige any special request. Contact us today to schedule a no-obligation estimate.
Today's vinyl and laminate floors are much more durable and offer an aesthetic that mirrors—if not exceeds—more expensive flooring selections. Modern vinyl and laminate flooring offer durability and faux finishes that closely resemble more expensive options, such as stone, tile, or solid wood.
Vinyl and laminate have become some of the most popular choices for homeowners, and we're happy to offer a wide variety to choose from. Our vinyl and laminate flooring is pliable, durable, and eye-catching. Whether you're looking to mimic a natural stone look or distressed wood finish, we can offer laminate and vinyl selections that you'll love. Contact us today to learn how we can best serve you.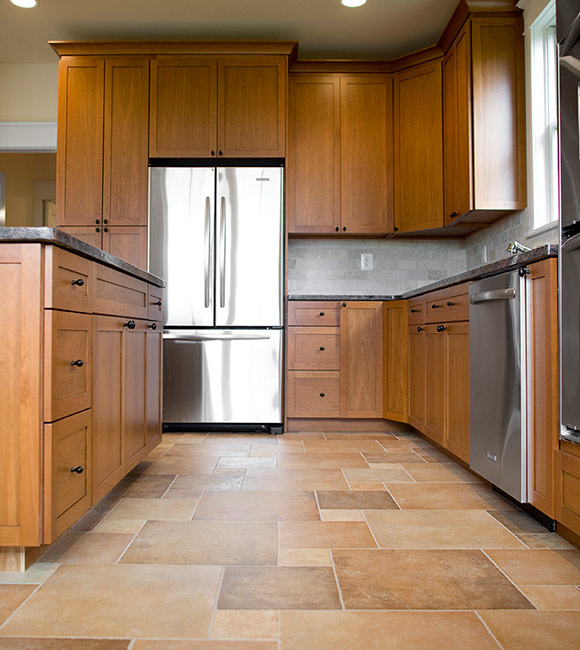 Our Trusted Suppliers
Exceptional renovations start with using exceptional products. While some contractors may offer insanely low prices, they're also more than likely using very cheap materials that will degrade quickly and need replacing within a few years. We offer a wide range of innovative and fashionable flooring options from some of the top suppliers in the country. From ceramic tile to carpeting and hardwood floors to luxury vinyl, we can offer you nearly countless options for your flooring renovation.
Our suppliers include:
We have countless colors, styles, and textures to choose from, and we can help you make a selection based on your preferences and your budget. When you're looking for flooring that offers style and durability that complements your home, call the flooring experts atProduction Flooring & Cabinets. We're dedicated to providing you with timeless flooring that will last a lifetime in Naples, Marco Island, and Bonita Springs, FL.
Committed to Your Satisfaction
Cabinetry and flooring are some of the most requested items for a home remodel; with so many options to choose from these days, it's little wonder that so many contractors now offer these services. What separates one contractor from another is the amount of experience and commitment they have. When it comes to finding the right contractor for your flooring installation, it's important to rely on a professional who has the experience, resources, and ability to get the job done on time and on budget.
At Production Flooring & Cabinets in Naples, Marco Island, and Bonita Springs, FL, we've built a reputation for offering unmatched flooring and cabinetry installations that exceed our clients' expectations. Our team has an eye for detail and will gladly oblige any special request. We'll listen to your needs, offer affordable options, and ensure the work is done right. We're committed to your satisfaction, and we're here to serve you when you need us.
Schedule Your Free Consultation Today!